Please note that an initial consultation is required for all new guests booking natural hair services. Depending on the service you are looking to have done, there may be an initial consultation fee due to the time required to provide a complete & thorough consultation. The initial consultation fee will be applied to the service if booked within one week of the consultation.
Final pricing for your service will be determined by your stylist and quoted during your initial consultation. Factors that can affect pricing are length, thickness & condition of your hair, the style that you want (simplicity vs intricacy), and overall time and work/skill required to achieve the desired style.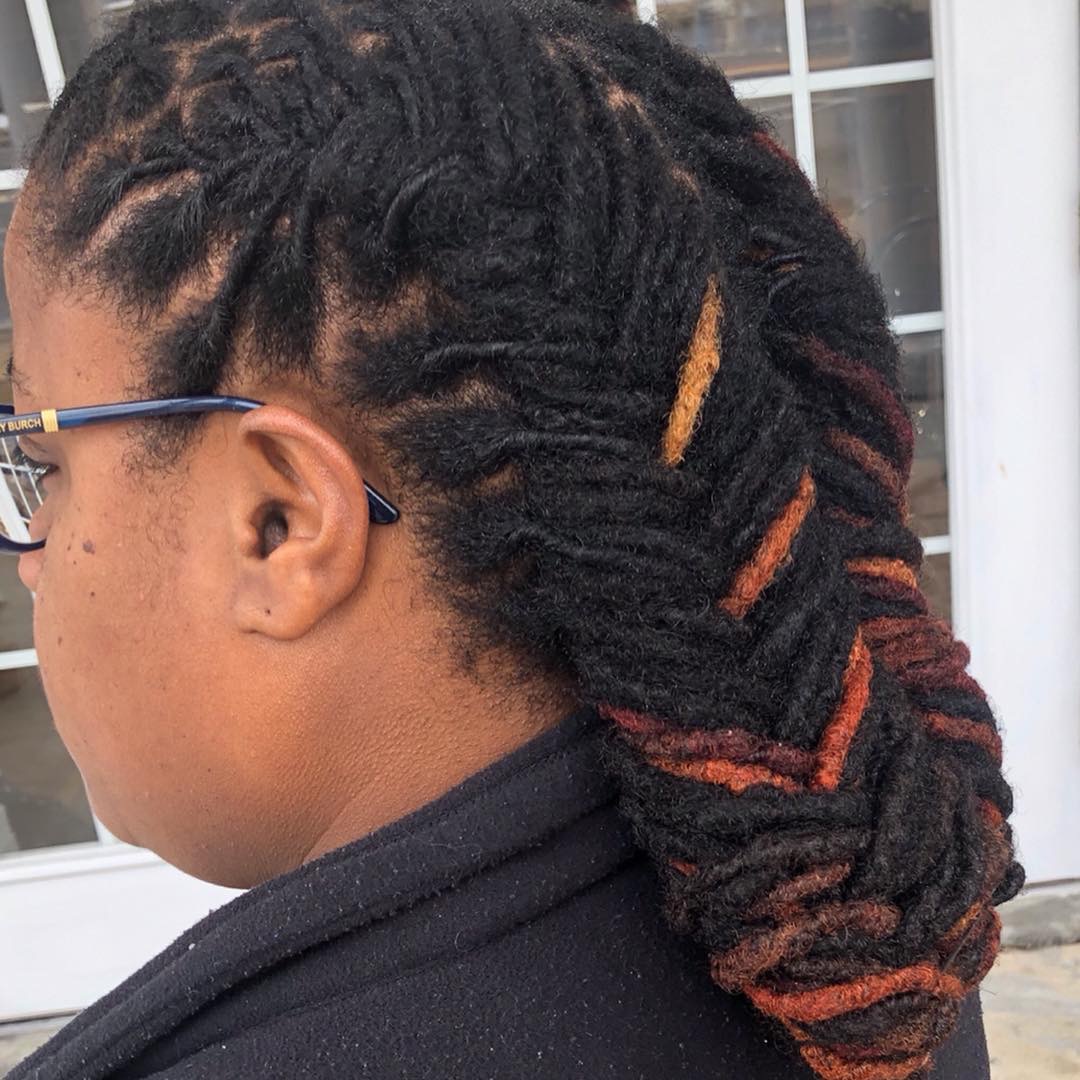 EXACT PRICES VARY PER GUEST REQUIREMENTS.
CONSULTATION REQUIRED FOR NEW GUESTS.
The oldest hair style known to man, before the invention of combs and brushes. Your antenna to the universe. Rooted in Royalty attributing to gods and goddesses and spirituality. All hair will loc if left alone. Locs are formed when hair that would normally be combed out is left to be sculpted into the size or shape desired. Expressing your personal loc style from Sister-Locs, S'Mediums, Full Bodied or Free-Form.
Remember to achieve great locs is a process. Enjoy and respect the journey!
Locs
STARTER LOCS: $85-180
LOC MAINTENANCE: $75-160
Sometimes the hair grows faster than it is capable of locking and interlocking will be prescribed to assist in this task. The smaller, more dense or longer the locs are, the more time and product is required.
Varying styles can be chosen after retwisting/palm rolling. These include braided styles, 2 strand twists, rod setting or a combination. Acquiring more than one style, such as an updo or two-strand twist to promote the longevity of your hair incurs an additional price as it takes more time.
Interlocking
STARTER INTERLOCKING: $600-1000+
INTERLOCKING MAINTENANCE: $185-300+
Is the smallest visual value of locs. From micro to about half the width of your pinky finger. To start interlocking varying techniques can be used to achieve the end result. Box stitch, 2 strand twists, cornrows or comb twists. The medium used will determine the cost or time necessary in rendering your expression.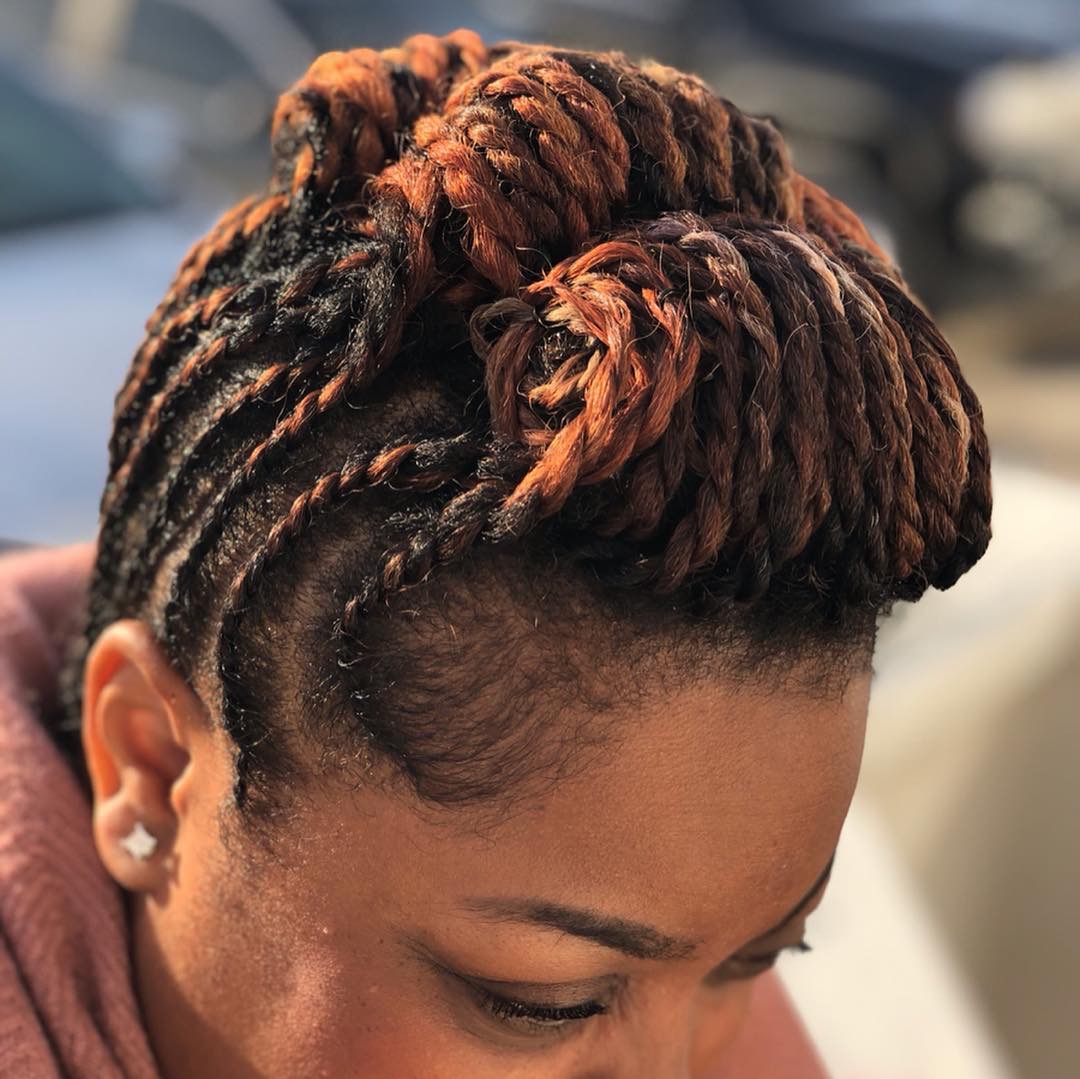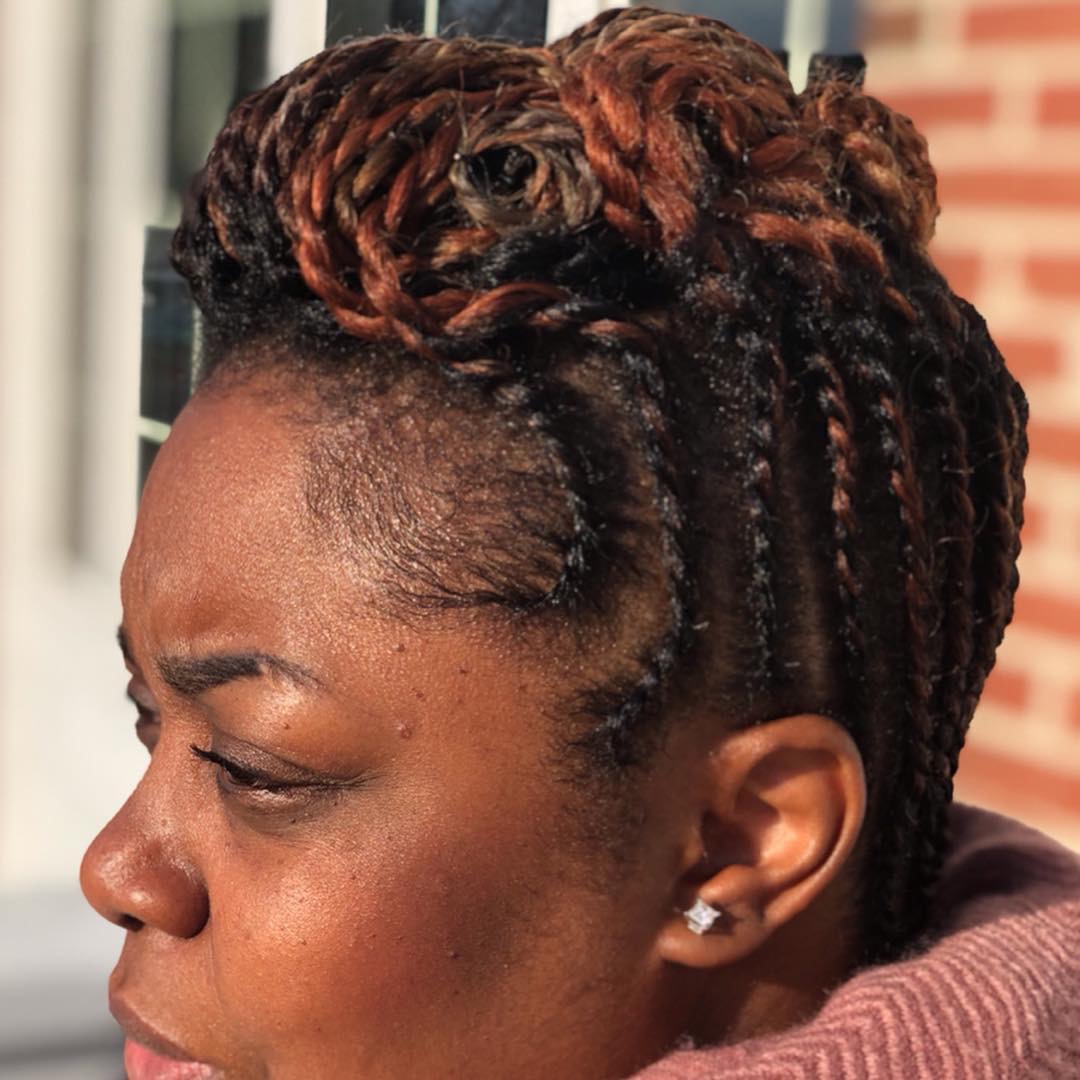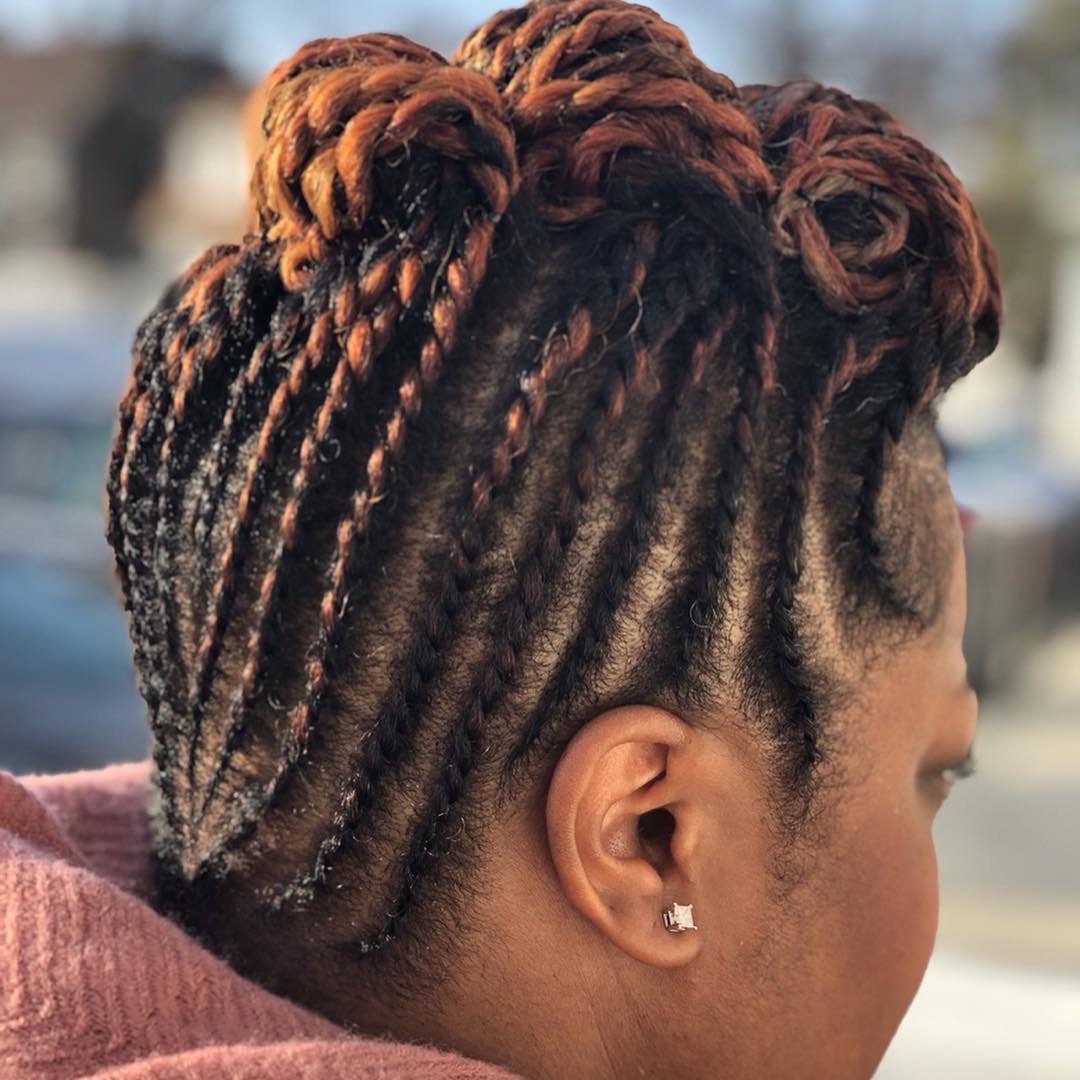 EXACT PRICES VARY PER GUEST REQUIREMENTS.
CONSULTATION REQUIRED FOR NEW GUESTS.
Twist Out styles are normally two processes. One of the following is prescribed, dried then separated for desired fullness.
Comb TwistS: $65-150+
From micro twist to chunky, the texture of hair and desired result dictates the size or placement. A great transition into taming your TWA (small Afro) or intro to Locs.
Individual 2-Strand TwistS: $75-160+
From micro to chunky, the amount of volume and or look desired determines what size or finish (ends comb twisted, rod set or thermal straightened).
Flat Twist: $75-160+
Creativity abounds with personal expression! Intricate or simple classic designs. Flat twists are definitely not your one size fits all category. Styles can be combined for a "younique" look.
Havana Twist
Chunky twists similar to Bob Marley twists.
Rod Set
Make Shirley Temple jealous! Spiraling into control.
Crochet Braids or Protective Styling
EXACT PRICE VARIES PER GUEST REQUIREMENTS & WILL BE QUOTED DURING CONSULT.
CONSULTATION REQUIRED FOR NEW GUESTS.
These styles can give our guests a much needed break from tending to their hair. Whatever your reasoning for choosing a protective style, we can help you achieve the crochet you desire. A consultation is required to make sure you get the right fit for your lifestyle and hair needs.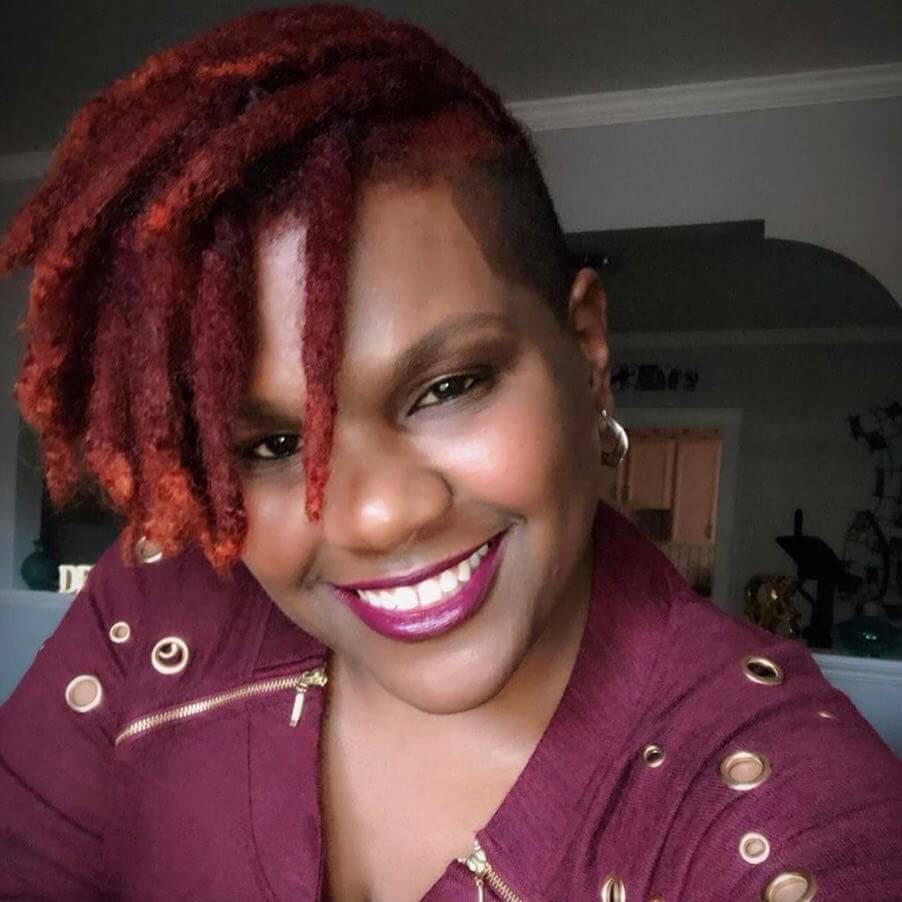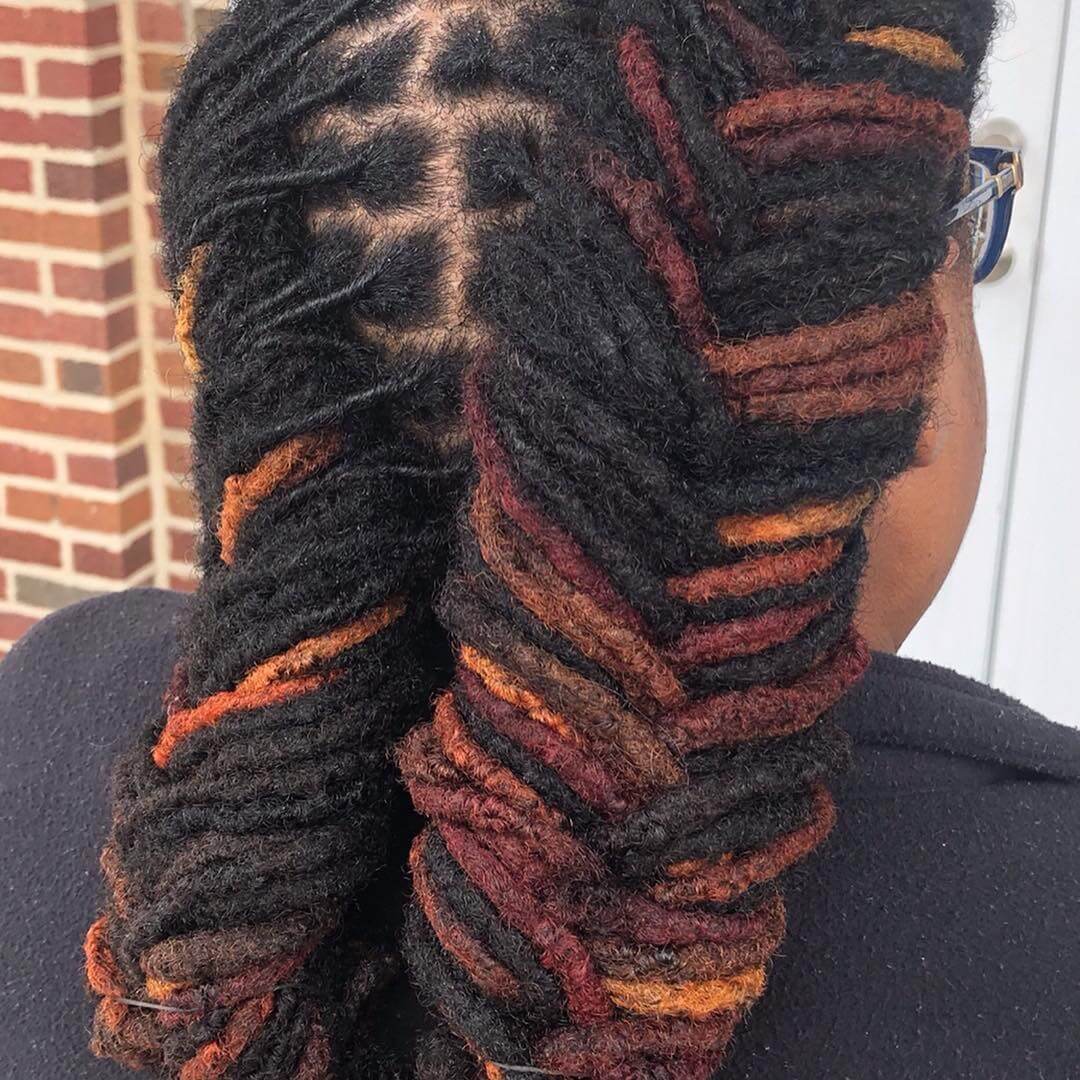 EXACT PRICE VARIES PER GUEST REQUIREMENTS.
CONSULTATION REQUIRED FOR NEW GUESTS.
As we delve into the world of natural hair color our approach to this may be different. Your typical approach usually stems from a couple different considerations: a picture from the internet; will I like it; is it trendy; will my spouse/partner/friends approve.
When we choose a color for you, we take into consideration a myriad of things: skin tone; eye pigmentation; hair health; lifestyle; facial shape; where does placement of light/dark works best to enhance and tell your story.
There are things that you may not want to hear concerning your hair, but they must be addressed to give you a more realistic concept of what to expect. At the end, the two shall meet to customize a color just for you.
EXACT PRICE VARIES PER GUEST REQUIREMENTS.
CONSULTATION REQUIRED FOR NEW GUESTS.
Knowing how to do something and why makes all the difference. Most of our guests admire the versatility of wearing their hair straight for special occasions without compromising the integrity of their hair when wanting to return to their twisted styles. Using the proper temperature, products and technique is paramount and our natural hair stylists understand the process.
SPRING FORWARD CURLS (Styling)
STARTS AT $45+
EXACT PRICE VARIES PER GUEST REQUIREMENTS.
CONSULTATION REQUIRED FOR NEW GUESTS.
Curls, or textured hair, is the most misunderstood canvas but it can be the most beautiful statement piece when mastered. Whether Wavy, Spiraled or Tightly Coiled, the approach and proper product knowledge is imperative. The majority of people across the globe now have some form of texture to their hair. It's been a long time coming and our moment has arrived that we are no longer being ignored when it comes to products and hair care.
There is probably 3-4 different textures on your head. (Nape, sides, crown or mid section). Some textures require a bit of manipulation to achieve uniformity and to stretch/lengthen your coils.
Additional Natural Hair Services
RESTORATIVE TREATMENTS For THINNING HAIR OR HAIR LOSS
EXACT PRICE VARIES PER GUEST REQUIREMENTS.
CONSULTATION REQUIRED FOR NEW GUESTS.
As this is daunting for anyone experiencing this dilemma, sometimes it is treatable and many cases reversible if addressed early. There are many things that can be attributed to the stressors hindering you from achieving healthy hair.
The majority of times it is a slow process as it is mostly over a period of time to get to this state. Success requires action both in the salon as well as at home. We first properly assess the type of hair loss. Then a regiment will be applied and is required for the process to be successful. The necessary products prescribed for your home care will be equally important for success. We will be sure to walk with you every step of the way.
Scalp Facial
STARTS AT $25+
EXACT PRICE VARIES PER GUEST REQUIREMENTS.
Soothing, Invigorating, Nourishing Sensory Explosion; Aromatherapy with a Cranial Massage. After assessing what the needs of the scalp and hair are (moisturizing, strength, volume), the proper products will be applied to maximize proper scalp and hair health.
Extensions & Weaves
EXACT PRICE VARIES PER GUEST REQUIREMENTS.
CONSULTATION REQUIRED FOR NEW GUESTS.
There are many ways to achieve length and fullness. Sew-ins, Tape-ins, Braided-in or Twisted-in. Consultation required.